Notary Public vs Commissioner of Oaths: What's the Difference?
A notary public and commissioner of oaths are two functions in a law office that many people always get confused with and tend not to know about. Most of the time, it is assumed that these two roles are one and the same. Understanding the difference will ensure that you make an appointment with the right person prior to submitting your legal document.
What Is A Notary Public?
A notary public is an official appointed by the government to help ensure the proper execution of legal documents. Examples of such documents are deeds, affidavits, certifications, contracts, licenses, trusts, estates, foreign or international transactions like a Special Power of Attorney used in the Philippines. Notaries public witness the signing of legal documents to verify the identification of the signatory or signatories and confirm that they understand the nature and effects of the said transaction or documents. The notary also needs to be satisfied that the signing is voluntary (that is, the signatory is not being forced to sign). A notary public may also certify true copies of an original document. In Ontario, the signature, stamp, or seal used to notarize documents are registered in a public registry. A notarized document is said to be authenticated if the signature and seal match the public registry's record. A certificate is issued in this regard. Many lawyers and paralegals in Ontario are also registered as a notary public.
What Is A Commissioner Of Oaths?
A commissioner of oaths (sometimes referred to as commissioner for taking affidavits) is a person who is entitled to take affidavits and administer oaths, declarations, and affirmations in accordance with the Commissioners for Taking Affidavits Act. A commissioner of oaths also has a stamp that is used along with their signature but no seal. Lawyer and paralegal licensees in Ontario are deemed commissioners of oaths by virtue of their office. Those who are not lawyers and paralegals may apply to become commissioner of oaths subject to approval by the Ministry of the Attorney General.
What's The Difference?
A commissioner of oaths, other than a lawyer who is also a notary public, cannot verify a true copy of a legal document. For that, you would need to go to a notary public. A commissioner of oaths has some other restrictions as well, such as their stamp or verification being valid only in the same province where they work or where they have been certified. In Ontario, commissioners of oaths who are not lawyers or paralegals may have certain limitations on their authority as indicated in their approved stamps.
REMEMBER THIS INFORMATION!
The person who is affirming or swearing to a document must be present before a notary public or commissioner of oaths and must have proper identification such as an authentic driver's license, a current passport, or any other recent government-issued photo identification to confirm his/her identity. The signing of the document must be done in the presence of either a notary public or commissioner of oaths. Both the notary public and commissioner of oaths are not liable for what's written in the legal document, they are only answerable for the signature of the person who is signing the document.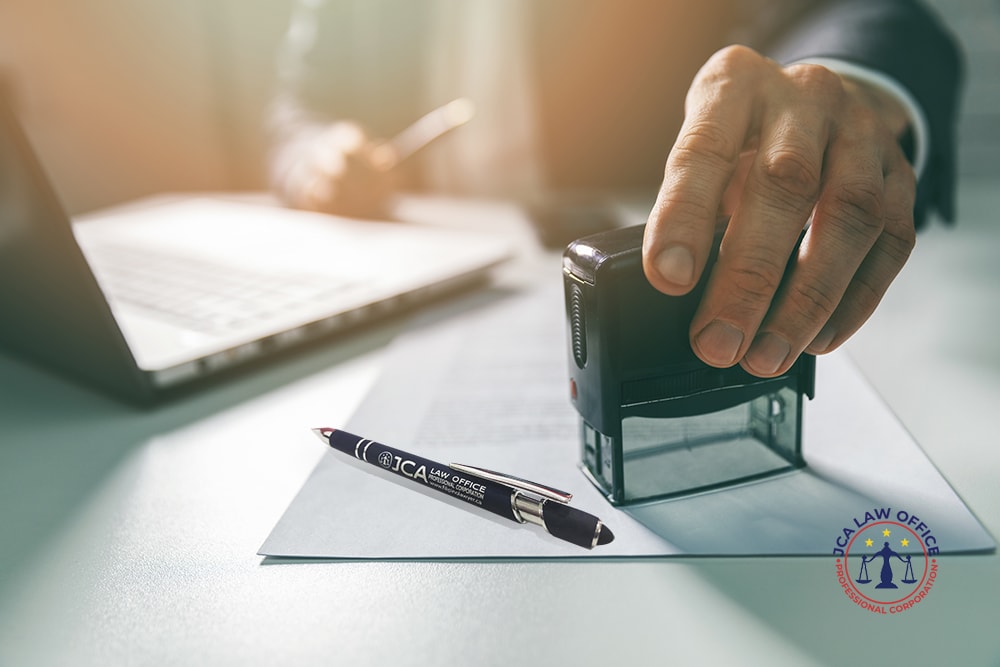 NOTARY PUBLIC IN TORONTO
If you are looking for a notary public in Toronto, JCA LAW OFFICE provides both notarial services and commissioner of oaths. You may visit our office at 168B Eglinton Ave. East, Toronto, ON, just a few steps away from the Philippine Consulate office in Toronto. Nearest intersection is Eglinton Ave. East and Redpath Ave. Our office hours are from Mon-Fri 9 AM – 6 PM, Saturdays by appointment. We are closed on Sundays and Canadian Holidays. You may give us a call at (Phone): 1-855-522-5290, or text us at 647-367-1634. You may also send us an email at info@filipinolawyer.ca.