OUR PARALEGAL SERVICES
WILL HELP TAKE YOUR CASE TO THE
NEXT LEVEL
Paralegals and Lawyers in Canada: What is the distinction?

Lawyer and paralegals are both legally trained professionals that offer legal services but with different range of expertise. A paralegal is trained with the knowledge and understanding of the law and can offer a limited scope of legal work, usually under a lawyer's supervision. Paralegals are actually a cheaper alternative to a lawyer, though the areas and responsibilities in which a paralegal work are much more limited and usually depends on their jurisdiction. A paralegal can represent you in small claims court, traffic court, or tribunals such as landlord and tenant board and Workplace Safety Insurance Board. They can also act as a counsel for Immigration Refugee Board tribunals.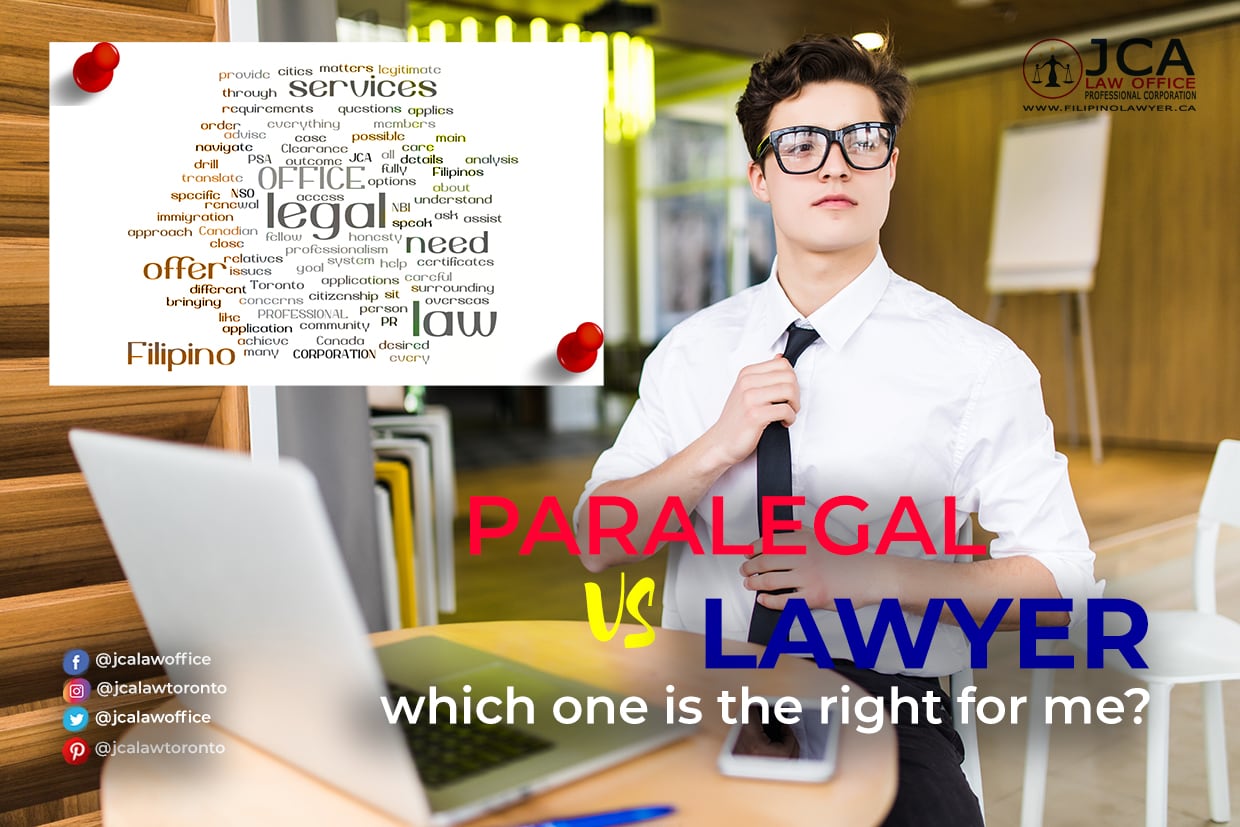 Do you need help in minor criminal offenses?
In Ontario, a paralegal can represent you for minor criminal offenses such as the following:
Impaired driving/ dangerous driving
Fail/Refuse to Provide a Breath Sample
Shoplifting
Assault
Criminal harassment
Any other crime with a sentence of fewer than six months
Paralegal must work under the supervision of a lawyer
In most provinces in Canada, paralegals must work under the supervision of a lawyer, but in 2006, Ontario became the first province to allow paralegals to work independently, regulated under the Law Society of Upper Canada. However, paralegals cannot help in the drafting of wills. A paralegal completes a few years of college and doesn't attend a law school or receive a degree in law.
On the other hand, a lawyer is a legally trained professional that has gone to school to study law and has received a law degree. A lawyer typically has at least seven years of education, four years doing an undergraduate and three years of law school. Most law schools require aspiring lawyers to write the Law School Admissions Test (LSAT) and have a Juris Doctor (J.D.) degree before passing the Barrister Licensing Examination (known popularly as the bar exam) and the Solicitor Licensing Examination in order to become a full-fledged lawyer. Lawyers represent clients and current proof for their defense in civil or criminal trials. They also inform their clients about their legal rights or responsibilities and advise them according to their legal conditions on the best way to precede them. A lawyer performs legal research and is capable of interpreting legislation, regulations, and rulings. They draw up legal documents such as wills, deeds, agreements, lawsuits and appeals, and may also supervise paralegals or legal assistants.
Lawyers are eligible to represent clients in all aspects of law including:
Family law (divorce, separation agreement, child custody disputes)
Immigration law (citizenship, family sponsorship, PR, working visa, student visa, etc)
Estate law (wills, power of attorney, asset liquidation)
Real Estate law (purchase and selling of private and commercial properties)
Criminal law (all types of offences in all categories of severity)
Civil law (litigation, property damage, etc)
Administrative law (legal paperwork, government law)

CZARINA DE JESUS

Licensed Paralegal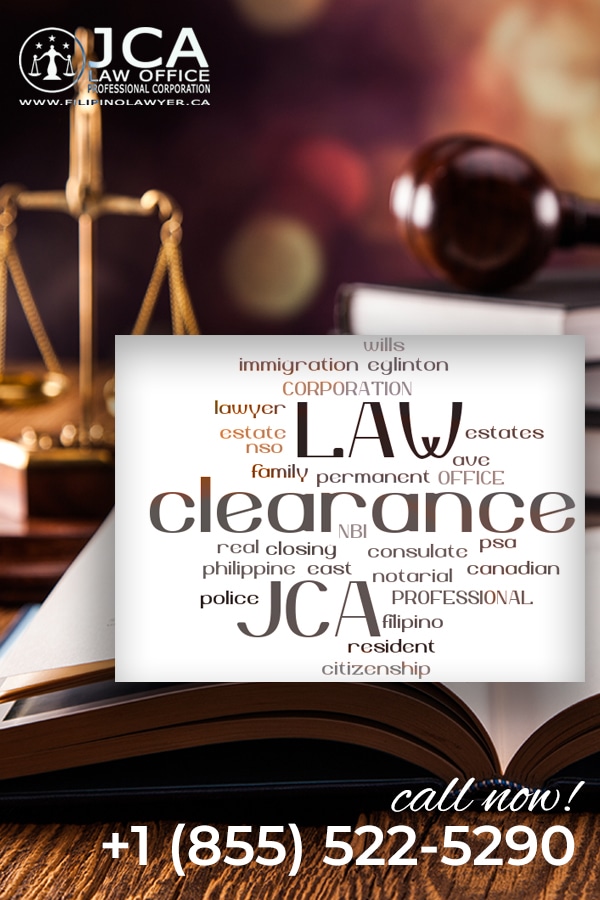 Which one is right for me?
The differences between lawyers and paralegals in Canada is mainly defined by the different types of legal issues that needs to be dealt with. Although a paralegal and a lawyer have different scope of legal work, they both work towards the same goal – to provide the best legal service for their clients and make sure that justice has been served. Here at JCA Law Office we have a great team of legal professionals including paralegals and lawyers who can help you in your legal matter. For further information, you may call us at 1-855-522-5290 or email us at info@filipinolawyer.ca.
POLICE CLEARANCE
Hong Kong, Taiwan, Singapore, Cyprus, UAE, Israel & other countries
NSO/PSA CERTIFICATES
Marriage, Death, CENOMAR & Advisory on Marriage
NOTARIAL SERVICES
Affidavits, SPA, Invitation, Letters & other legal services
NOTARIAL SERVICES AND OATH COMMISSIONING
You need a document notarized? Affidavits, Statutory Declarations, Contracts, Deeds and the like…
JCA Law Office is here!
You need a certified true copy of an original document? School records, birth and marriage certificates, court orders and the like…
JCA Law Office is here!
We are located at 168B Eglinton Avenue East, Toronto, ON M4P 1A6.
Requirements?
Two-government issued IDs for the person signing the document (passport, permanent resident card, citizenship card, driver's license, Ontario photocard or SIN. OHIP not accepted.)
The person signing the document should be present.
For certified true copies, we need the original document.
Fees?
Notarial Services (Notary) – $30.00 plus tax per document
***If three affiants/signatories, an additional fee of $15.00 plus tax per person.
Notarial Certificate (Certified True Copy)- $40.00 plus tax per document
An appointment is preferred to make sure that notary public or oath commissioner is available when you come in. Walk-in clients are welcome as well, however, please note that there may be waiting time when you visit.
For appointments, please call 1-855-522-5290 or email us at info@filipinolawyer.ca. You may also leave us a message on our Facebook Page.
Where can you find us?
We are located at 168B Eglinton Avenue East, Toronto, ON M4P 1A6.
We closed to Eglinton Station. Our office hours are Monday to Friday from 9am to 6pm and on Saturdays from 9am to 2pm.
For special cases, we offer mobile notary to clients who are unable to come to our office, please give us a call to make arrangements. Additional fees may apply.
WILLS & ESTATES
Last Will & Testament, Power Of Attorney for property, Power of Attorney for Personal Care, Health CAre Directive (FREE)*, Appointment of Estate Administrator (with or without will)
PARALEGAL SERVICES
Small Claims Court, WSIB, Landlord & Tenant Board, Provincial Offences, and Summary Conviction Offences
We make web design, SEO, SEM, logo, business card, flyers, brochures, banners, and even signage.
160 Eglinton Ave East, Suite 406, Toronto, ON M4P 3B5 | 168B Eglinton Ave East, Toronto, ON M4P 1A6
SERVING YOU IS OUR PRIORITY
JCA LAW OFFICE PROFESSIONAL CORPORATION
FEEL FREE TO
CALL AND WE'RE
HERE TO HELP YOU!

REON Digital Marketing Company
ADDRESS: 168B Eglinton Ave East, Toronto, ON M4P 1A6