Divorce and legal separation
Divorce and legal separation can affect several aspects of your life such as decision-making responsibility, parenting time, support for a child, and property distribution. There are many things to consider if you are at the stage of no turning back. It is of course in your best interest to seek out a lawyer whom, you can rest assured, will handle your case professionally. You want your family lawyer to be highly skilled in areas regarding your divorce or separation matters.
Our representation is not a one-size-fits-all approach. Each family case depends on the complexity of the situation. This is why we highly value client collaboration in order to hear you and all the in-depth issues about your case.
Decision-Making Responsibility
When it comes to matters regarding decision-making responsibility for a child (previously referred to as custody), our goal is to help you understand and make sure that the decisions involving your case will prioritize the best interest of your child(ren). As a parent, it is within both of your legal rights and responsibilities to ensure that your children are well protected financially, physically, emotionally, and spiritually in accordance with applicable laws in Canada.
It is often desired and expected that both parents are taken into account in shared decision-making for the children. However, it is important to keep in mind that as an officer of the court, we will always strive to act not only in the best interest of our clients but also in accordance with relevant laws. This is to ensure the protection of not just you as our client but your children's best interest as well.
JCA Law will carefully analyze your situation
Family Law
Some might argue that because of the closeness forged into families, the matters concerning its members can become complicated and more difficult to manage. When family law or legal issues are thrown into the mix, family matters may become the cause of even more headaches.
During such tumultuous times in the family, JCA Law offers to be the objective eye that will look over your situation and give you sound, professional advice so that you can arrive at a reasonable conclusion. JCA Law strives to help you disentangle the convoluted webs of family law, including:
Spousal support
Child support and decision-making responsibility
Parenting time
Property division
---
JCA Law Office
Guiding You
Through Family Law Matters.


What is Parenting Time?
When a child primarily resides with one parent, the other parent is usually granted liberal parenting time. This is more commonly known as visitation or access.
Parenting time can be supervised or unsupervised. Unsupervised means there is no need to exercise parenting time in the presence of someone else.
A parenting time schedule usually involves spending time with children every weekend, holidays, long weekends, school breaks, and summer holidays.
Decision-Making Responsibility and Parenting Time
Once you or your former partner have decided to separate or file a divorce, there are a number of things you need to consider. Among these are decision-making responsibility and parenting time for your child or children. Ideally, these decisions are to be resolved together based on what you mutually believe is best for your child or children. However, it is common for separated parents to have different views (often opposing) especially if the separation brings out negative feelings.
If you decided to get divorced or want to separate, you need a skilled family lawyer to help you navigate the legal process. If you want to learn more about these matters, please call us at 1 (855) 522-5290 and let us talk about how JCA Law Office Professional Corporation can help you. You may visit also our office at 168-B Eglinton Ave East, Toronto, Ontario M4P 1A6.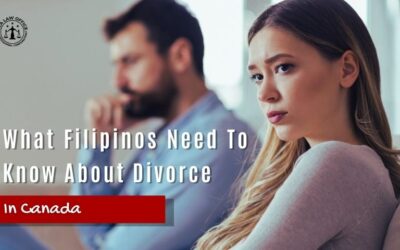 Marriage is "forever" for most Filipinos. Divorce is not an option. The Philippines is one of only two countries in the world that do not allow...
read more