Divorce and legal separation
Divorce and legal separation can affect a lot of aspects of your life, such as parental access, properties, and child custody. There are many things to consider if you are at the stage of no turning back. It is of course in your best interest to seek out a lawyer whom, you can rest assure, will handle your case professionally. You want your family lawyer to be highly skilled in all areas regarding your divorce matters.
Our representation is not a one-size-fits-all approach. Each family case depends on the complexity of the situation. This is why we highly value client collaboration, in order to hear you, and all the in-depth issues about your case.
Child Custody
When it comes to matters regarding child custody, our goal is to help you understand and make sure that the decisions involving your case will prioritize the well being of your children. As parental guardians, it is within both of your legal rights and responsibilities to ensure that your children are well protected financially, physically, emotionally and spiritually in accordance with the child custody laws in Canada.
It is often desired and expected that both parents are taken into account in equal decision-making regarding child custody. However, it is important to keep in mind that as a legal firm in obedience to the law, we will always strive to act not only in the best interests of our clients and your families, but in accordance to the laws and charters of rights and freedoms. This is to ensure the protection of not just our clients, but as well as your children.
JCA Law Office
Guiding You
Through Family Law Matters.

JCA will carefully analyze your situation
Family Law
Some might argue that because of the closeness forged into families, the matters concerning its members can become complicated and more difficult to manage. When family law or legal issues are thrown into the mix, family matters may become the cause of even more headaches.
During such tumultuous times in the family, JCA Law offers to be the objective eye that will look over your situation and give you sound, professional advice so that you can arrive at a reasonable conclusion. JCA Law strives to help you disentangle the convoluted webs of family law, including:
Spousal support
Child support and child custody
Parenting time
Property division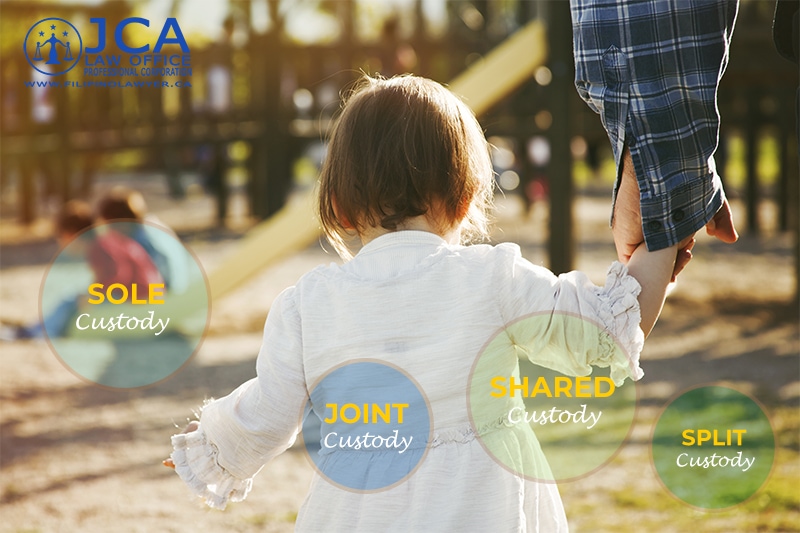 What is Custody?
We have four (4) different types of custody which include:
Sole Custody
Joint Custody
Shared Custody
Split Custody
SOLE CUSTODY
If you have the sole custody, it means you have full responsibilities and legal rights to make major decisions about your child or children. You have the exclusive guardianship and the other parent may or may not have the access or visitation rights.
JOINT CUSTODY
In joint custody situations, you both have an input regarding major decisions affecting your kids, including health, education, and religion. The residence and visitation arrangements for your children are agreed by both of you.
This type of custody works best where there are little or no serious conflict between both parents under the child support guidelines.
SHARED CUSTODY
While the Joint Custody is a shared-responsibility affecting your children, the Shared Custody does not have much relevance when it comes to decision-making but significantly important to determine child support. How much time does your child spend between the two of you?
In Canada, we consider shared physical custody if the physical care of a child is "not less than 40% of the time". Family law lawyers sometimes refer to this as the "40% threshold". It is only after a parent has crossed the 40% threshold that he or she can invoke section 9 of the Child Support Guidelines. This is not calculated monthly but on a yearly basis.
The court has the discretion or decision to count time – based on family's situation or case.
SPLIT CUSTODY
Split Custody is another type of custody arrangement. It is applicable when you have more than one child together.

What is Access?
When the court awards sole custody to you, your ex-partner is granted the access right. This is commonly known as visitation. If both parents have joint custody, and your child is living with you, the other party is also granted the right to access.
Access visits can be done supervised or unsupervised, there is no need for both parents to be present during the visitations.
Access schedule usually involves spending time with kids every weekend, holidays, long weekends, school breaks and summer holidays.
Custody VS Access
Once you and your former partner have decided to file a divorce, there are a number of things you need to consider. You need to make a decision about the custody and care for your child/children. These decisions need to be resolved together based on the welfare of your kids. Either you will be the sole custodian or not. If the court will grant you sole custody, then you make all the decisions about education, religion, and other important matters.
If you both decided to get divorced and want to separate, you need a skilled lawyer to make sure the child custody rights are being protected. If you want to learn more about these matters, please call us at 1 (855) 522-5290 and let us talk about how JCA Law Office Professional Corporation can help you. You may visit also our office at 168B Eglinton Ave East, Toronto, Ontario, Canada.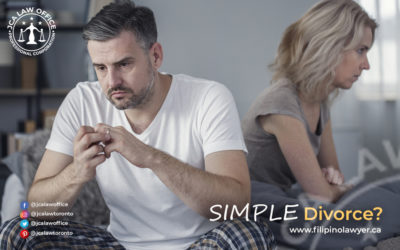 "For most couples, the love that they started with is not gone, but buried under years of anger, misunderstandings and resentment" Joel Osteen...
read more
Whom do I need for my legal matter, a licensed paralegal or lawyer? guidelines in choosing paralegal Ask them how much they charge,...
read more