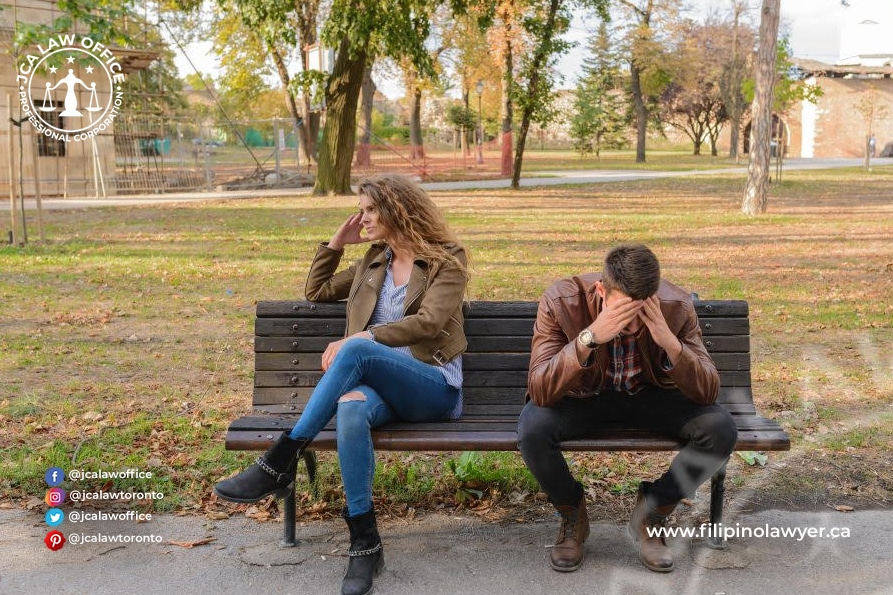 "For most couples, the love that they started with is not gone, but buried under years of anger, misunderstandings and resentment"
Joel Osteen
There's this old proverb "Love makes the world go round", but what if you feel that you have no more love for your partner yet you still want your world to revolve? And what about the legal issues related to it? Things can get very complicated when the topic is about love and emotions. Adding the legal implications can make it nastier.
THE UNCOMPLICATED GUIDE ON HOW TO DIVORCE YOUR SPOUSE
BY: Gin Aguilar
I don't want to sound so cynical but, based on the facts and the thousands of divorce cases being filed every year in North America, marriage is just not for everyone. Not sure about you, but I hate confrontations, especially the drama and the emotional toil that goes with it. Thus, to make your life easier, I've compiled and listed out a guide on how to file for divorce and legally end your marriage in the most uncomplicated way:

Five Things You Need To Know About Divorce Today
1. Physically and emotionally separate from your spouse for at least a year
In Canada, the only ground for divorce in the Divorce Act is marriage breakdown. The law says you can prove your marriage has been an epic failure if any ONE of the following criteria applies to you:
You have been living apart for one year or more
Your spouse has been physically or mentally cruel to you
Your spouse has committed adultery
Most divorce applications are filed based on the one-year separation period. The other grounds for divorce, adultery, and cruelty, requires more solid evidence to prove the claims. Therefore, if you really feel that it's over and done, it is best that you physically and emotionally separate from your wife/husband as soon as possible to establish the "one-year time apart" right away.
You can still physically live in the same house as long as you are staying in separate rooms (which means there should be no rebound sex), you do not share or eat meals together (even if the other person agrees to pay in half), you do not watch a Raptors game in the living room together, etc. – you get the point.
2. Acquire and fill out the right divorce application forms
Obtain and properly fill out the right divorce application forms. In Ontario, there are 2 Family Law Divorce Forms that you can choose from in order to file your divorce in court. You may use the form for (1) Divorce only, or for (2) Divorce and other claims such as custody, access, child support, spousal support, or dividing property.
You can get both forms from the nearest courthouse or download from the Ontario court website the correct court forms. These forms are available in both English and French.
Upon filling out the form, keep in mind that since you are the person filing for divorce on the court, you are labeled as the "applicant". Your spouse, on the other hand, will be called the "respondent" since he/she will be required to respond to your claim.
3. Take and file your complete divorce application form to the court
Once the right divorce form has been properly filled out, take and file your divorce application at the family courthouse that is associated with your address, or your spouse's address, whatever floats your boat. You may check out the nearest court location from your place (or your estranged spouse's place) on this url http://www.attorneygeneral.jus.gov.on.ca/english/courts/Court_Addresses/. Note that when you file for divorce, you also need to pay for the appropriate court fees. Make sure that you bring cash with you as they only accept cash, cheque or money order payable to the Minister of Finance.
4. Provide a copy of your divorce application to your estranged spouse
Provide a copy of your divorce application form to your soon-to-be ex-spouse. The law uses the term "serve" upon doing this (which I personally believe sounds a little ironic, I mean, you are trying to end your marriage yet you still need to serve him/her!!). You need to serve your partner within six months of getting your divorce application issued. Otherwise, the court may close your file.
5. Get your divorce order
Once you submit the final documents to the courthouse, you will wait for the decision on your file. A Judge will either grant your divorce or reject your application due to some error made. The decision usually takes about 6 to 8 weeks from the time you file your final documents. A copy of the divorce order will arrive directly to your mailing address.
Do I need a divorce lawyer to file for a divorce?
This decision is entirely up to you. If you feel that you need assistance and legal advice from a divorce lawyer especially with regards to custody, financial support and/or visitation rights if you and your spouse have kids, then it might be best to consult with a family lawyer. Your lawyer will help you with the court process and may also help you in filing out your divorce papers, ensuring that you have filled out the right divorce forms and there are no mistakes/errors in the divorce forms for filing.
You can be sure that our trusted and knowledgeable lawyers here at JCA LAW OFFICE will handle your divorce and family matters with importance and confidentiality.
You may visit our office at 168B Eglinton Ave. East, Toronto, ON M4P 1A6.
You may also book your appointment by calling us at 1-855-522-5290 or book it online:
https://filipinolawyer.ca/book-an-appointment/
Follow us on our Social Media accounts:
Facebook:@JCALawOffice
Instagram:@jcalawtoronto
Twitter:@JCALawOffice