The National Bureau of Investigation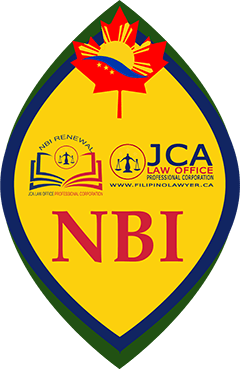 JCA Law Office
CAN PROCESS YOUR
NBI application.
We can deliver it on your doorstep!
Delivered in 2 weeks or less
Money back guarantee
Price match available
Terms and conditions apply
Are you looking to get your NBI Clearance in Canada?
Are you looking to get your NBI Clearance in Canada? JCA Filipino Law Office can help you!
In some cases, you just want a copy of your NBI Clearance and you are outside of the Philippines, you can still secure one. If you think you don't have a hit or pending cases in the Philippines then applying for NBI is easy and we could give you the timetable when to secure it.
NBI Clearance along with the Philippine Passport is an important requirement needed for applying for a job locally and abroad, we don't know what is your goal of applying or even renewing it but for the sake of this inquiry, we'll assume that it's one of your employment requirements.
Are you a first-time NBI Applicant?
"My friend is asking me what are the requirements for NBI application. Of course, I have no idea and as a common reaction, I Googled it!"
Google gave me chunks of websites to look at. One thing that caught my attention is the Philippine Consulate General website wherein I thought I can find the requirements.
According to the Philippine Consulate General website, the applicant will be asked to complete the NBI Form No. 5, provide 2 x 2 ID picture and photocopy of their passport. The consulate officers will then take your fingerprints. FEE is $33.75CAD. The NBI form will be released the same day. Applicant must send the NBI Form to the Philippines for processing. Your authorized representative will then process it for you.
Want an easy way? Message us! We will do everything for you! Save on courier fees! No need to bother your best friend or your mom!
We can help you!
Requirements:
• Original and photocopy of valid passport (bio-page only)
• 2" x 2" colored photo with white background taken within three (3) months prior to application
• Fingerprints maybe required
EMAIL us at info@nbirenewal.ca or call us at 1-855-522-5290 for further inquiries.