JCA Law Office
CAN HELP YOU WITH YOUR
NBI application.
We can deliver it right to your doorstep!
Delivered in 2 weeks or less (pre-Covid)
Money-back guarantee*
*Terms and conditions apply
Are you looking to get your NBI Clearance in Canada?
Are you looking to get your NBI Clearance in Canada but unsure of the steps? JCA Law Office can help you!
The good news is, you can still secure a copy of your NBI Clearance even if you are in Canada or anywhere outside of the Philippines. If you don't have a "hit" status on your name or any pending legal case in the Philippines, then applying for an NBI clearance is easy and we can give you a timeline as to when it will be completed and delivered to you.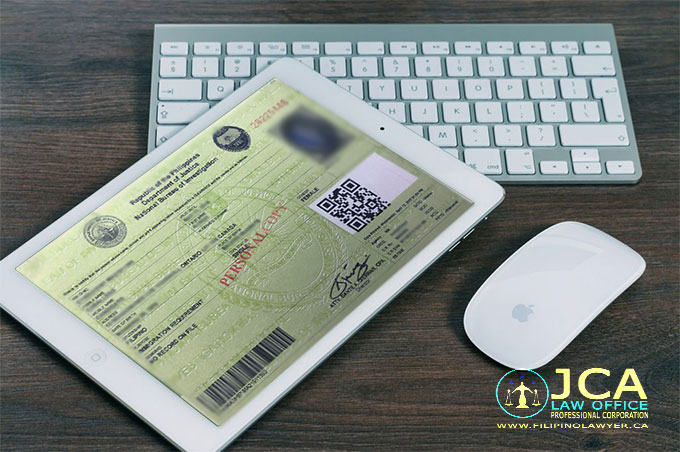 Guidelines on NBI Clearance Renewal and Application – What do I really need to know?
Are you a first-time NBI Applicant?
"My friend is asking me what are the requirements for NBI application. Of course, I have no idea and as a common reaction, I Googled it!"
An NBI Clearance, along with a Philippine Passport, is an important legal document usually needed when applying for a job locally and abroad. If you are an OFW or a CAREGIVER, it is always important that you keep your legal documents up-to-date, especially if you are planning of applying for a PR (Permanent Resident) status or citizenship outside the Philippines, such as Canada.
Search engines like Google will give you chunks of information and various websites to look at. To summarize it for you, according to the Philippine Consulate General website, the applicant will be asked to complete and provide the following: (1) NBI Form No. 5, (2) 2 x 2 ID picture and (3) a photocopy of your latest passport. The consulate officers will provide you with the NBI form and the fees to be paid to the Consulate will be $36.25 CAD.  You need to take note though that it will be you, the applicant, who must send the NBI Form to the Philippines for processing. Your authorized representative (which can be your mom, relative or best friend) will then submit, follow-up and process it for you.
Do you want an easier way? Message us! We will do everything on your behalf – save on courier fees and no need to bother your best friend, your mom or any of your relatives!
We can help you!
Requirements:
• Original and photocopy of valid passport (bio-page only)
• 2" x 2" colored photo with white background taken within three (3) months prior to application
• Fingerprints may be required
EMAIL us at info@nbirenewal.ca or call us at 1-855-522-5290 for further inquiries.
NBI FEES:
NBI Online Processing Fee: $110.00 tax inclusive
PROCESSING TIME: 2 to 3 weeks
MAILING:
You can pick-up the NBI clearance once ready or we can mail it to you. Email us your complete address for us to check the cost of mailing.