NBI Clearance Renewal
Renew your NBI clearance as easy as 1-2-3! You can renew your NBI clearance while in Canada and get it as early as 1 to 3 weeks. JCA Law Office Professional Corporation will handle it so you can avoid the frustrations and risks of dealing with non-professionals. The best part? You save time and money!
Trusted by over 5,000 happy clients for their NBI Clearance needs in Canada, the large volume of NBI application forms we handle daily results in a more efficient and cost-effective process. Savings are passed on to the consumer in the form of faster delivery and lower cost.
Gather the requirements listed below and send them to us at your convenience. Use our secure online portal available 24/7 to make a hassle-free order and submit your documents. If you want to do the application yourself, check out our NBI online guide for detailed instructions. Contact us if you need any assistance.
Do you need an NBI Clearance but are unsure of the steps to take?
JCA Law Office can help you!
If you don't have a "hit" status on your name or any pending legal case, then getting an NBI clearance from the Philippines is fast and easy. Otherwise, we can still help you but there may be some delay. The good news is, you can secure an NBI registration form while in Canada and apply online. We can give you a timeline as to when it will be available and delivered to you.
JCA Law Office Professional Corporation is the leading service provider in Canada of Philippine legal documents including NBI clearance certificates. Since its foundation in February 2016, over 5,000 clients relied on the services JCA Law for their Philippine legal document needs for Canadian immigration, work, or study purposes.
If you are a do-it-yourself (DIY) type of person, you can read more about the process by following the link to our free NBI Renewal Guide.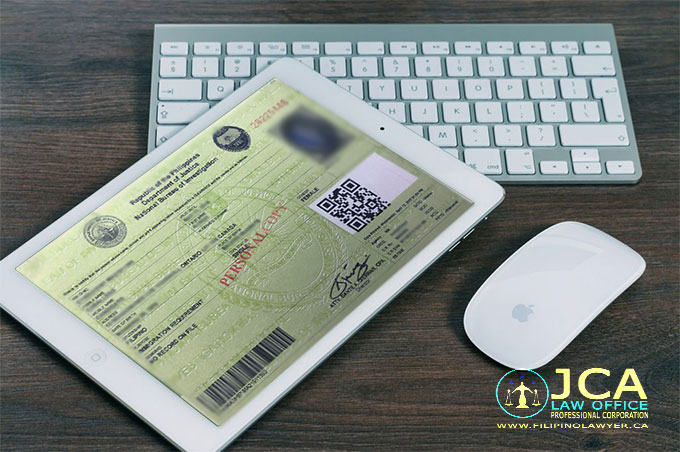 Requirements:
NBI registration form or NBI Form No. 5 
photocopy of valid passport (bio-page only)
2" x 2" colored photo with white background taken within three (3) months prior to application
copy of old NBI certificate from 2014 or later, if available (otherwise, fingerprints may be required)
EMAIL us at info@nbirenewal.ca or call 1-416-546-2627 for inquiries.
NBI FEES: $100.00 + applicable tax
NORMAL PROCESSING TIME: 1 to 3 weeks
MAILING:
You can pick up the NBI clearance once ready or we can mail it to you. Email us your complete address for us to check the cost of mailing.
Available in 2 weeks or less (pre-Covid)*
Order online (available 24/7)
Delivered to you anywhere in Canada
JCA Law Office
Can help with your
NBI Clearance requirements