Getting an NBI Clearance Certificate in Canada
If you are reading this, you probably wish to find out the best way to obtain an NBI clearance certificate for your Permanent Residence (PR) application in Canada. If not, you are on the wrong page. Continue reading if you want to know more.
Just like when you decided to work, study, or immigrate to Canada, you have 2 main options: DIY or hire a representative.
The DIY or Do-it-Yourself Option
There is nothing wrong with applying for an NBI clearance certificate by yourself. If you prepared and submitted your own application for a work permit or study permit in Canada, you can also handle getting an NBI clearance certificate in Canada. It is not that difficult but always be aware of the costs and risks. You do not want to miss the opportunity of becoming a permanent resident in Canada by failing to submit a required document.
What are the requirements for obtaining an NBI clearance certificate in Canada?
It depends on whether you are getting a new NBI certificate or a renewal.
Requirements for an NBI Renewal in Canada:
1. recent 2 x 2 ID photo on white background
2. filled-in NBI form
3. copy of old NBI from year 2014 or later
4. copy of passport data page
5. authorization letter
6. PHP 200 (Philippine Peso)
Requirements for a New NBI Clearance in Canada:
1. recent 2 x 2 ID photo on white background
2. filled-in NBI Form No. 5
3. fingerprints
4. copy of passport data page
5. authorization letter
6. PHP 200 (Philippine Peso)
Once you have gathered these requirements, send them to your representative in the Philippines or directly to the office of NBI Manila:
IRD- Mailed Clearance Section
National Bureau of Investigation
Taft Avenue, Ermita 1000 Manila, Philippines
Arrange how your NBI clearance will be sent to you. For example, you may need to provide a prepaid return envelope with your address in Canada or ask if you can have a scanned copy while the original is in transit.
Have questions? Please read our Frequently Asked Questions on Getting an NBI Clearance in Canada.
Hire a Representative Option
Hiring a representative is the better choice for most people. JCA Law Office is trusted by thousands of satisfied NBI clients since its foundation in 2016. The large volume of NBI applications we handle daily results in a more efficient and cost-effective process. Savings are passed on to the client in the form of faster delivery at a reduced cost.
Use our secure online portal available 24/7 to make a hassle-free online order and submit your documents.
If you want to do the application yourself, check out our NBI online guide for detailed instructions. Contact us if you need any assistance.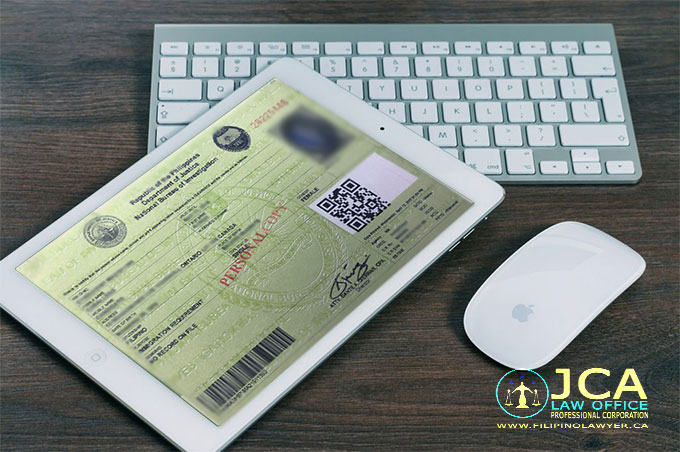 NBI Clearance Frequently Asked Questions (FAQs)
What is an NBI Clearance?
An NBI clearance is a police certificate issued by the National Bureau of Investigation (NBI) in the Philippines.
How can I get an NBI clearance in Canada?
You can get an NBI clearance in Canada by hiring a representative or by following detailed instructions provided by NBI Manila.
Where can I get an NBI Form No. 5?
The NBI Form No. 5 has a unique serial number and is issued to NBI clearance applicants upon request. Contact the Philippine Consulate or Embassy nearest you to make a request.
Where can I get my fingerprints taken?
Your fingerprints may be taken at your nearest Philippine Consulate or Embassy, or through an RCMP accredited fingerprinting agency.
Can I get NBI clearance delivered to my address?
Yes. Arrange for the delivery with your representative or NBI Manila depending on your chosen option.
How long before I can get my NBI clearance?
If you chose JCA Law Office as your representative, you could expect to receive your NBI clearance renewal within 3 weeks if you do not have a "HIT". New NBI clearance applications take longer. Note that your application documents and the NBI clearance will have to travel from Canada to the Philippines and vice-versa, respectively.
What is a "HIT"?
A "HIT" is an informal term used to mean that you or a namesake (someone whose name is like yours) have a criminal record.
What happens if I get a "HIT"?
The processing of your NBI clearance will be delayed because it needs to undergo another process for quality control. Review the information about the relevant criminal record provided by NBI Manila. If the criminal record is not yours (which means that the criminal record is that of a namesake) you may be required to execute a notarized "Affidavit of Denial". Other requirements may be added by NBI Manila at their discretion.
What does the "No Derogatory Record" remark mean on my NBI clearance?
A "No Derogatory Record" remark is considered the best result you can get for your NBI clearance. This means that you have no criminal record in the NBI database. If you are applying for Permanent Resident status in Canada, an NBI clearance with a "No Derogatory Record" is what you need. Otherwise, you may be required to provide additional documents.
Have more questions?
Call our NBI clearance hotline at (416) 546-2627 or our main line at (855) 522-5290 during office hours. You may also send us a Facebook message anytime.
NBI Renewal requirements:
NBI registration form or NBI Form No. 5
photocopy of valid passport (bio-page only)
2" x 2" colored photo with white background taken within three (3) months prior to application
copy of old NBI certificate from 2014 or later, if available (otherwise, fingerprints may be required)
EMAIL us at info@nbirenewal.ca or call 1-416-546-2627 for inquiries.
NBI FEES: $100.00 + applicable tax
NORMAL PROCESSING TIME: 1 to 3 weeks
MAILING:
You can pick up the NBI clearance once ready or we can mail it to you. Email us your complete address for us to check the cost of mailing.
Available in 2 weeks or less (pre-Covid)*
Order online (available 24/7)
Delivered to you anywhere in Canada
JCA Law Office
Can help with your
NBI Clearance application