Experience Quality and Trust with JCA Law Office's Notarial Services
At JCA Law Office Professional Corporation, we understand the importance of accurate and timely notarization for all your important documents. That's why we are proud to offer our expert notarial services to individuals and businesses alike, ensuring your peace of mind in every transaction.
Why Choose JCA Law Office for Your Notarial Needs?
Expertise: Our team of highly qualified, experienced notaries public and commissioners of oaths is well-versed in handling various types of documents, including affidavits, statutory declarations, powers of attorney, and more.
Convenience: We understand that life can be hectic, which is why we strive to provide flexible scheduling and remote (virtual) services. Our office is conveniently located and easily accessible, making it simple for you to stop by for your notarial needs.
Efficient Service: We understand your time is valuable, and we strive to provide efficient and reliable notarial services.
Multicultural Support: Our team is proud to serve clients from diverse backgrounds. We understand the importance of clear communication and are committed to ensuring that our clients feel comfortable and well-informed throughout the notarization process.
Competitive Pricing: JCA Law Office is committed to providing high-quality notarial services at affordable rates. We offer transparent, competitive pricing to ensure that our clients receive top-notch service without breaking the bank.
Client Satisfaction: Your satisfaction is our top priority. We take pride in our reputation for delivering exceptional customer service and are dedicated to ensuring that each of our clients leaves our office confident in the accuracy and legality of their notarized documents.
Confidentiality: We prioritize the confidentiality of your documents and adhere to strict privacy standards.
Experience the difference with JCA Law Office Professional Corporation's notarial services. Our team is ready and eager to assist you with all your notarization needs, providing the expertise, convenience, and peace of mind you deserve.
Contact us today at
(855) 522-5290
or
schedule an appointment
and let us help you secure your important documents with confidence.
Notary Public vs Commissioner of Oaths: What's the Difference?
A notary public and commissioner of oaths are two functions in a law office that many people always get confused with and tend not to know about. Most of the time, it is assumed that these two roles are one and the same. Understanding the difference will ensure that you make an appointment with the right person prior to submitting your legal document.
What Is A Notary Public?
A notary public is an official appointed by the government to help ensure the proper execution of legal documents. Examples of such documents are deeds, affidavits, certifications, contracts, licenses, trusts, estates, foreign or international transactions like a Special Power of Attorney used in the Philippines. Notaries public witness the signing of legal documents to verify the identification of the signatory or signatories and confirm that they understand the nature and effects of the said transaction or documents. The notary also needs to be satisfied that the signing is voluntary (that is, the signatory is not being forced to sign). A notary public may also certify true copies of an original document. In Ontario, the signature, stamp, or seal used to notarize documents are registered in a public registry. A notarized document is said to be authenticated if the signature and seal match the public registry's record. A certificate is issued in this regard. Many lawyers and paralegals in Ontario are also registered as a notary public.
What Is A Commissioner Of Oaths?
A commissioner of oaths (sometimes referred to as commissioner for taking affidavits) is a person who is entitled to take affidavits and administer oaths, declarations, and affirmations in accordance with the Commissioners for Taking Affidavits Act. A commissioner of oaths also has a stamp that is used along with their signature but no seal. Lawyer and paralegal licensees in Ontario are deemed commissioners of oaths by virtue of their office. Those who are not lawyers and paralegals may apply to become commissioner of oaths subject to approval by the Ministry of the Attorney General.
What's The Difference?
A commissioner of oaths, other than a lawyer who is also a notary public, cannot verify a true copy of a legal document. For that, you would need to go to a notary public. A commissioner of oaths has some other restrictions as well, such as their stamp or verification being valid only in the same province where they work or where they have been certified. In Ontario, commissioners of oaths who are not lawyers or paralegals may have certain limitations on their authority as indicated in their approved stamps.
What People Say
Client Testimonials
Quaint, cozy, and efficient! No experience with legal processes, other than real estate, but was able to have a bank document notarized the same day it was issued. Would highly recommend this friendly and welcoming office to anyone with a need for legal service. Thank you JCA Midtown!
~ Heather Holmes
Notary Client
Needed to have a document notarized- efficient, easy, straightforward, painless process. The office is well organized. I was in and out quickly. Exactly how it should be for the service I needed.
~ Terez Czapp
notary client
FAST, EFFICIENT, and very FRIENDLY. Definitely will return to initiate further business.
~ Mande Puskas
notary client
I needed to get a document notarized and was able to do so very quickly with JCA Law! Everyone was also very kind. I'll come back in the future if I need similar services.
~ Maria Clara Campos
notary client
I would highly recommend the JCA Law Office for being efficient, accommodating, fast, and excellent service. Thank you!
~ Loraine Salazar
notary client
Friendly and accommodating.
~ Jen Baldos
notary client
REMEMBER THIS INFORMATION!
The person who is affirming or swearing to a document must be present before a notary public or commissioner of oaths and must have proper identification such as an authentic driver's license, a current passport, or any other recent government-issued photo identification to confirm his/her identity. The signing of the document must be done in the presence of either a notary public or commissioner of oaths. Both the notary public and commissioner of oaths are not liable for what's written in the legal document, they are only answerable for the signature of the person who is signing the document.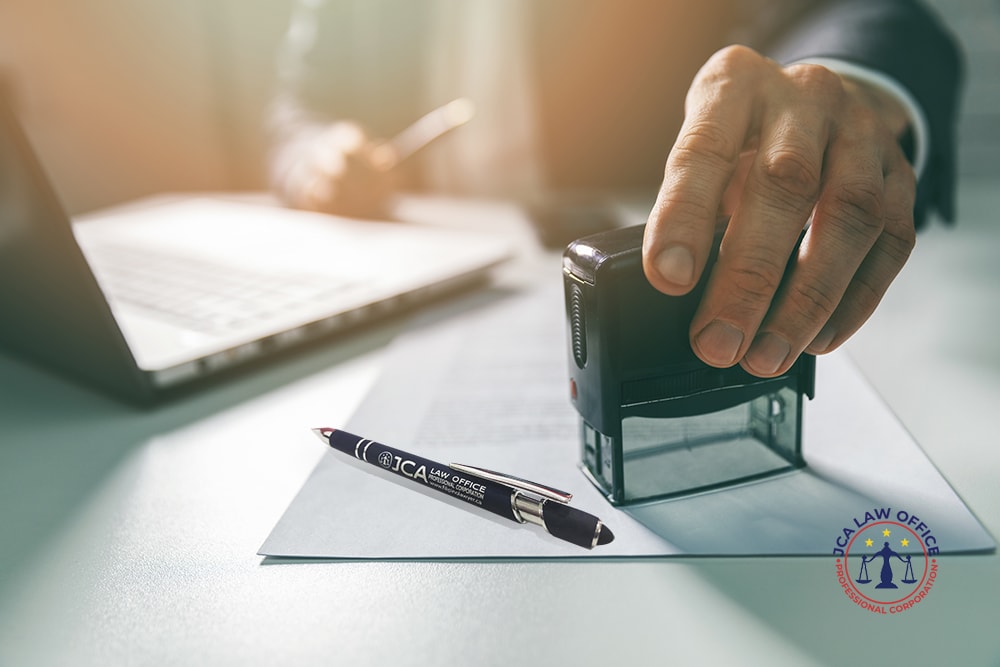 NOTARY PUBLIC IN TORONTO
If you are looking for a notary public in Toronto, JCA LAW OFFICE provides both notarial services and commissioner of oaths. You may visit our office at 168B Eglinton Ave. East, Toronto, ON, just a few steps away from the Philippine Consulate office in Toronto. Nearest intersection is Eglinton Ave. East and Redpath Ave. Our office hours are from Mon-Fri 9 AM – 6 PM, Saturdays by appointment. We are closed on Sundays and Canadian Holidays. You may give us a call at (Phone): 1-855-522-5290, or text us at 647-367-1634. You may also send us an email at info@filipinolawyer.ca.