All You Need To Know About Authentication Of Documents In Canada For Use In The Philippines
If you are confused as to which documents must undergo consular notarization and authentication here in Canada so they may be used in the Philippines, worry not, because you are not alone. Everyday, we encounter clients unaware about what they need to do or where to go to have their documents properly authenticated. So, for everyone's peace of mind, here's a detailed guide on the authentication or "consularization" process of legal documents in Canada for use in the Philippines.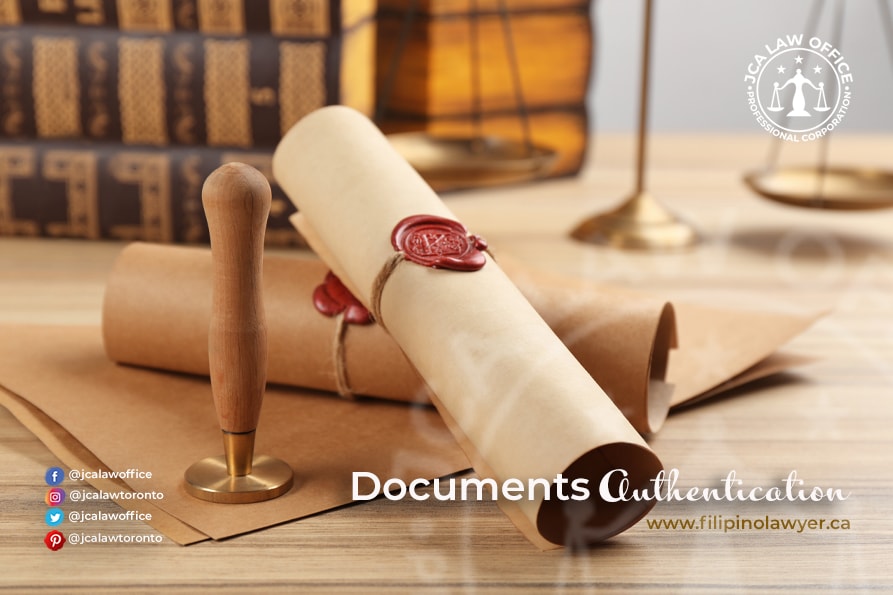 Why Do I Need To Authenticate A Document In Canada For Use In The Philippines?
An important thing to know is that neither Canada nor the Philippines is a signatory to the Hague Apostille Convention**, and therefore does not issue apostilles. This means that for documents that were executed, signed, or issued in Canada to take legal effect in the Philippines, these documents must undergo consular notarization (or authentication, as the case may be) at the Philippine Embassy, or one of its consulates, in Canada.
What Is The Purpose Of Authentication Of Legal Documents?
Laws vary with each jurisdiction (which can be a city, province, or country). The requisites for the execution of legal documents (such as affidavits, special power of attorney, contracts, and wills) are primarily governed by the jurisdiction where the document is to be used. For example, if a legal document is intended for use in the Philippines, it must comply with the requirements under Philippine law.
Let us say that one of the requirements under Philippine law is that the document must be notarized. This means the document must be signed or executed before a notary public. But which notary public? In the Philippines, documents can be notarized only within the jurisdiction of the notary where they have been appointed. So, what if you need a notarized document and you live in Canada as a student, worker, visitor, permanent resident, or citizen? Then you go to the office of a notary public appointed by the Province where you live. In Ontario, a notary public is appointed by the Minister of the Attorney General.
But there's the problem. The notary public is not appointed by Philippine authorities. The Philippines does not maintain a registry of appointed notaries public in Canada. How can people in the Philippines rely on your legal documents? How will they know if it was notarized by a duly appointed notary public in Canada?
This is where the authentication process comes in. The Philippine Consulates General in Canada (Philippine Consulate Toronto, Philippine Consulate Vancouver, and Philippine Consulate Calgary) and the Philippine Embassy in Ottawa act as the representative of the Philippine Government and administers various programs to serve Filipinos in Canada. Authentication of documents is one of the services they provide.
What Legal Documents Need To Be Authenticated?
Common documents for authentication are Affidavits, Special Powers of Attorney (SPAs), General Powers of Attorney (GPAs), Deeds, Contracts, and official documents issued by authorities in Canada. Contact the Philippine Embassy in Ottawa or any of the Philippine Consulate General near you or visit their website to get the latest information. Please be advised that restrictions due to COVID-19 may be in place.
Make sure your documents are already prepared and ready for signing. Do not sign your documents unless you are instructed. You must sign in front of the officer. Please note that the Consulates or Embassy does not draft documents such as SPAs on behalf of applicants but they can provide a form that you can fill in.
What Do I Need To Bring To The Philippine Consulate Or Embassy?
Make sure that you have the following requirements prior to going to the Philippine Embassy or Philippine Consulate:
• Document(s) such as Special Power of Attorney (SPA), Affidavit, Contract, Deed, or any legal papers you need to be notarized;
• 2 government-issued IDs such as a valid passport, driver's license, Canadian citizenship card, permanent residence card, or Ontario photo ID; make sure that you have a photocopy with you since it will be used as an attachment to the document for authentication;
• Cash, bank draft, or money order (Debit/credit cards or personal cheques are NOT accepted);
• "Personal appearance" of all signatories to the document;
• DO NOT SIGN YOUR DOCUMENT(S) UNLESS YOU ARE GIVEN INSTRUCTIONS
Processing is done on a first-come, first-served basis. Since June 15, 2019, the Philippine Embassy or any of the Philippine Consulates in Canada no longer affixes "red satin ribbons" on its authenticated/notarized documents, pursuant to instructions from the Department of Foreign Affairs.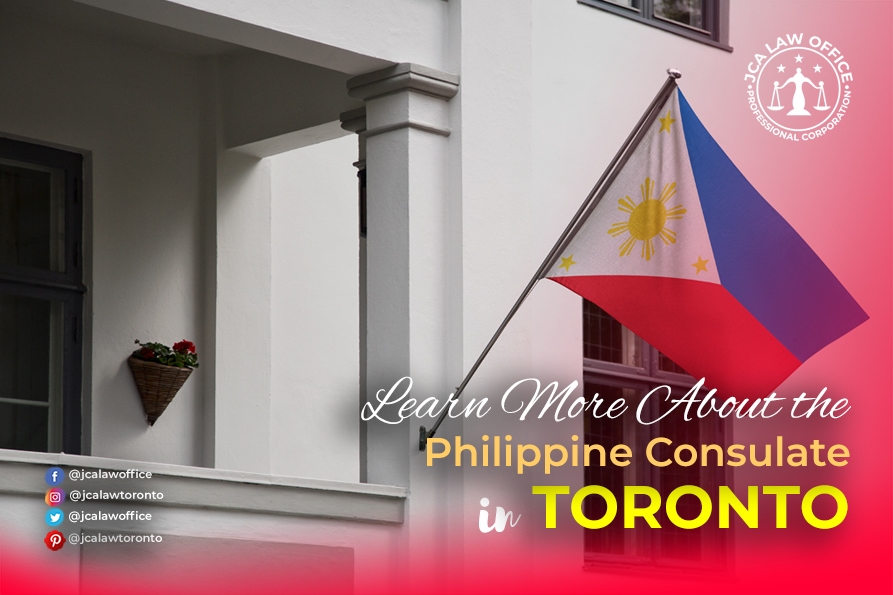 What Are The Steps For The Authentication Of Legal Documents At The Philippine Consulate Or Embassy?
Before the COVID-19 pandemic and the related government restrictions on mobility and in-person services, you can simply walk-in without an appointment and have your documents submitted for authentication at the Philippine Consulate or Embassy of your choice. You need to come back another day to pick up or have it mailed to you if you have a self-addressed mailing envelope from Canada Post (Xpresspost).
It is important to note that person(s) executing the legal document(s) (SPA, Affidavit, General Powers of Attorney, etc.) for use in the Philippines must personally appear before a consular officer to acknowledge and sign the document. If for some reason, the said individual who executes the legal document is unable to personally appear, the following steps are needed to be done to have the document authenticated.
Steps For Authentication Of Legal Documents For Use In The Philippines:
1. Prepare your legal documents. Your can prepare them yourself, fill-in a template, or have them drafted by a professional.
2. Have the documents notarized by a duly commissioned and authorized commissioner of oath or notary public. Each province or territory may have different rules on who are authorized to notarize your document so make sure you go to the right professional.
3. Submit the notarized document to any of the following offices (depending on the province or territory in Canada under which authority your documents were notarized) for certification of signature and authority of the lawyer or notary public:
ALBERTA
Deputy Provincial Secretary's Office
Room 111, Bowker Building
9833 109 Street
Edmonton, Alberta T5K 2E8
BRITISH COLUMBIA
The Law Society of British Columbia (if the notary public is a lawyer)
845 Cambie Street
Vancouver, BC V6B 4Z9
The Society of Notaries Public of British Columbia (if the notary public is not a lawyer)
625 Howe Street, Suite 700
Vancouver, BC V6C 2T6
ONTARIO
Official Documents Services
Main Floor
222 Jarvis Street
Toronto Ontario M7A 0B6
Global Affairs Canada
Authentication Services Section (JLAC)
125 Sussex Drive
Ottawa, ON K1A 0G2
MANITOBA
Commissioner for Oaths/Notary Public Office
Room 1034 – 405 Broadway
Winnipeg, MB R3C 3L6
NEW BRUNSWICK
Justice and Office of the Attorney General
PO Box 6000
Fredericton, NB E3B 5H1
NEWFOUNDLAND AND LABRADOR
Confederation Building
4th Floor, East Block
P.O. Box 8700
St. John's, NL A1B 4J6
NOVA SCOTIA
Department of Justice, Legal Services Division
1690 Hollis Street
Joseph Howe Building
Halifax, NS B3J 1V7
PRINCE EDWARD ISLAND
Justice and Public Safety
Legal Services Section
PO Box 2000
95 Rochford St., 4th Fl. Shaw S.
Charlottetown, PE C1A 7N8
SASKATCHEWAN
Ministry of Justice and Attorney General
Authentication Services
800 – 1874 Scarth Street
Regina SK S4P 4B3
NORTHWEST TERRITORIES
1st Floor Stuart M. Hodgson Building
5009 49th Street
P.O. Box 1320
Yellowknife, NT X1A 2L9
NUNAVUT
Nunavut Court of Justice
P.O. Box 297
Iqaluit NU X0A 0H0
YUKON
Societies Clerk, Corporate Affairs Territorial
2130 2nd Ave.
Whitehorse, YT Y1A 2C6
Disclaimer: the information posted here is for reference only and subject to change without prior notice. Get up-to-date information by visiting their website.
Note that in-person transactions usually have a much quicker turn-around time compared to mailed-in transactions. However, restrictions due to COVID-19 may be in place. Contact the office where you intend to have your documents authenticated for up-to-date information.
4. Submit your certified document and other requirements to the Philippine Consulate or Embassy which has consular jurisdiction over the province or territory you went to in Step 3 above. Contact them for up-to-date information.
Philippine Consulate General Toronto
7th Floor, 160 Eglinton Ave. East
Toronto, Ontario, Canada
M4P 3B5
Philippine Consulate General Vancouver
999 Canada Place, Suite 660
Vancouver, BC V6C 3E1
Philippine Consulate General Calgary
Suite # 100, 1001 – 1st St. SE
Calgary, AB, T2G 5G3
Philippine Embassy
30 Murray Street, Ottawa ON K1N 5M4
5. Obtain your fully authenticated document and send it to your representative in the Philippines.
HOW CAN JCA LAW OFFICE HELP YOU?
If you don't have time for a personal appearance at the consulate or find the authentication process to be tedious and stressful, worry not. JCA Law Office can do it on your behalf. Our friendly Filipino-Canadian lawyers and professional staff will take care of all your needs.
JCA Law Office is a one-stop-shop for all your legal document needs going to the Philippines and have served thousands of happy clients since its foundation in 2016. Whether you require document preparation, notary, certification, authentication, and even courier services, we have all the services you need under one roof.
You may book your appointment by calling us at 1-855-522-5290 or book it online:
https://filipinolawyer.ca/book-an-appointment/
Follow us on our Social Media accounts:
Facebook: @JCALawOffice
Instagram: @jcalawoffice
Twitter: @JCALawOffice