PUBLIC ADVISORY
To all our clients and followers with pending NBI & PSA/NSO application or planning to apply in our office:
For NBI Applications: As of March 17, 2020 (Canada time), the National Bureau Investigation (NBI) office in the Philippines released an advisory notice with regards to the processing of NBI application informing the public that they will be temporarily suspending clearance processing operations until April 13, 2020. In relation to this, please expect major delays in processing time and release dates of your NBI clearance.
For PSA/NSO Certificates – As of March 16, 2020, all government offices and most private businesses in Metro Manila are closed until further notice. This includes the offices PSA/NSO. As of this writing, our courier partners, Canada Post, DHL & LBC, have not released official announcements as to the suspension of service. However, please expect delays in service.
Other Police Clearances – these applications will be processed as usual unless affected by announcements from authorities of respective countries such as Hongkong, UAE, Taiwan and other countries and/or unless delays in couriers such as Canada Post and DHL affects the processing.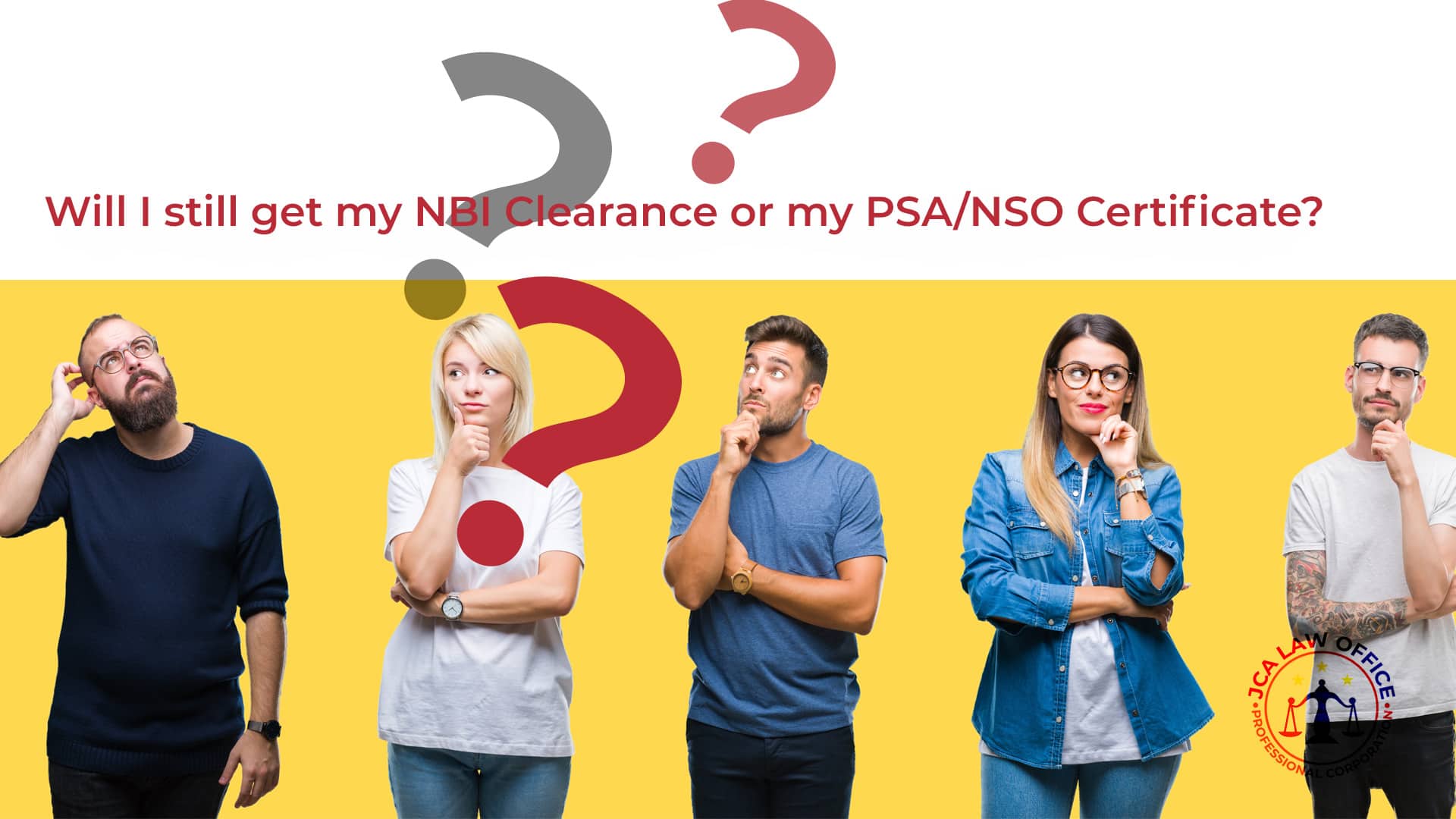 Frequently Asked Questions (FAQ's):
What will happen to my application?
All applications are on-hold until operations of NBI office, PSA/NSO office and courier services normalize.
Will I still get my NBI Clearance or my PSA/NSO Certificate?
Yes but please expect significant and major delays.
When will I get my NBI Clearance or my PSA/NSO Certificate?
We have no definite release dates as of now.
I will miss my deadline. What should I do?
If JCA Law Office is your representative for your immigration file/case, we will communicate with the government office or private office concerned.
If you only availed of NBI processing or PSA/NSO processing, please communicate with the government or private office you are transacting with.
JCA Law Office may issue a letter (free-of-charge) stating that your NBI/police clearance application is in process. Let us know if you need one.
When we received your application, it was submitted for processing right away. For this reason, we will NOT be issuing refunds. Should you have any concerns regarding this, please email jbinayat@jcalaw.ca and we will address them on a case-to-case basis.
What else do I need to know?
All NBI Police Clearances & PSA/NSO Certificate will be mailed out to our clients effective immediately. You will receive instructions on how to complete the thumbmark and signature requirements at home.
Please rest assured that JCA LAW OFFICE is doing its best in processing your application with the safety of our clients and staff in mind in the midst of coronavirus outbreak.
**Kindly take note that JCA LAW OFFICE located at Suite 406, 160 Eglinton Ave. East will be temporarily closed beginning March 19,2020 until further notice.**
Thank you for your kind understanding and patience.