Canadian family sponsorship is a pathway for Canadian citizens and permanent residents to bring their eligible family members to Canada. This program, managed by Immigration, Refugees and Citizenship Canada (IRCC), allows the sponsor to financially support their family members in obtaining permanent residency in Canada.
Determine Your Eligibility as a Sponsor
To be eligible to sponsor a family member, you must:
Be at least 18 years old
Be a Canadian citizen, a permanent resident, or a registered Indian under the Canadian Indian Act
Reside in Canada (except in certain cases for Canadian citizens living abroad)
Have sufficient financial resources to support the family member(s) you are sponsoring
Check Your Family Member's Eligibility
Family members eligible for sponsorship include:
Spouses or common-law partners
Dependent children (including adopted children)
Parents and grandparents
Brothers, sisters, nephews, nieces, or grandchildren who are orphans, under 18 years old, and not married or in a common-law relationship
Note: Different eligibility requirements and application processes apply for each relationship category.
Meet the Financial Requirements
As a sponsor, you must prove your financial ability to support the family member(s) you are sponsoring. This includes providing basic needs, such as food, clothing, and shelter, and ensuring they do not require social assistance. Income requirements vary based on your family size and the number of people you are sponsoring.
Prepare and Submit the Application
Gather all necessary documents, including:
Application forms for the sponsor and the sponsored family member(s)
Proof of relationship (e.g., birth certificates, marriage certificates)
Proof of financial resources
Police certificates and medical exams for the sponsored family member(s)
Submit the complete application package to the appropriate IRCC office, along with the required processing fees.
Check Processing Times
Processing times for family sponsorship applications vary depending on the relationship category and the visa office responsible for processing the application. Keep track of your application status through the IRCC online portal.
Wait for the Final Decision
Once the application is approved, the sponsored family member(s) will receive a Confirmation of Permanent Residence (COPR) and a permanent resident visa (if applicable). They must enter Canada before the expiry date on these documents.
What are Your Obligations as a Sponsor?
As a sponsor, you are responsible for financially supporting the sponsored family member(s) for a specific period, which varies depending on the relationship category. Ensure you fulfill your sponsorship obligations to avoid any legal consequences.
Conclusion
Canadian family sponsorship is an excellent opportunity for Canadian citizens and permanent residents to reunite with their loved ones. Ensure you meet all eligibility requirements, gather the necessary documents, and submit a complete application to increase the chances of a successful outcome.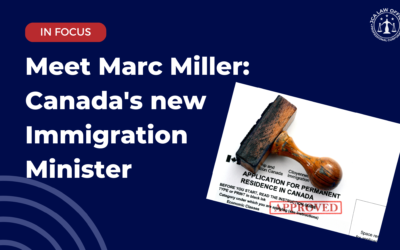 Canada's immigration landscape welcomes a fresh face as the country's new Immigration Minister, Marc Miller. With a background rooted in advocacy...
read more
Need A Consultation
Tell us about your legal matter, and we'll tell you how we can help.