Are you considering a visit to the picturesque landscapes of Canada, but uncertain about the visa application process? Don't worry, at JCA Law Office Professional Corporation, we have a wealth of experience in assisting clients like you. This article will provide a comprehensive guide on how to navigate the Canadian visit visa application process effectively and efficiently.
1. Understand the Type of Visa You Need
The first step in the application process is to ascertain the type of visa you need. The most common type for short-term visits is the Temporary Resident Visa (TRV), also known as a visitor visa. This is suitable for tourism, visiting family, or conducting short-term business trips.
2. Gather Necessary Documentation
You'll need to provide various forms of documentation to support your application. This includes:
A valid passport.
Two passport-sized photographs.
Proof of financial support indicating you can support yourself and any dependents during your stay.
A letter of invitation from a family member or friend in Canada, if applicable.
Any other documents required by your local Canadian consulate or embassy.
3. Complete the Application Form
The application form (IMM 5257) must be filled out accurately and honestly. It requests details about your background, reasons for visiting, and travel history. You may also be required to complete additional forms depending on your circumstances.
4. Pay the Application Fee
As of my knowledge cutoff in September 2021, the application fee for a TRV was CAD$100. However, fees may have changed, so it's essential to verify the current fee structure. The fee is non-refundable, regardless of the decision on the application.
5. Submit the Application
Applications can be made online or on paper. Online applications typically have faster processing times and allow you to track the status of your application in real-time. However, some applicants may need to apply on paper due to limited internet access or other considerations.
6. Attend a Visa Interview or Biometrics Appointment
After submitting your application, you may be asked to attend an interview at your local Canadian embassy or consulate. You will also need to provide biometrics (a photo and fingerprints). As of 2021, the biometric fee was CAD$85.
7. Wait for Processing and Decision
Processing times can vary significantly based on a range of factors. It's important to apply well in advance of your intended travel dates.
If your application is approved, a visa sticker will be placed on your passport. If your application is refused, you will receive a letter explaining why.
How JCA Law Office Professional Corporation Can Assist You
The Canadian visit visa application process can be complex and overwhelming. That's where we come in. Our experienced immigration lawyers at JCA Law Office Professional Corporation can guide you through each step of the process, ensuring you understand what's required and helping you maximize your chances of success.
We can assist with filling out forms, preparing supporting documentation, and providing advice and representation if you're called for an interview. With our help, you can navigate the process with confidence and look forward to your visit to Canada.
Please note that immigration laws and procedures can change, so it's important to consult with an experienced immigration lawyer to get the most current advice. Contact us today to get started on your journey to Canada!
Disclaimer: This article is intended for general information only and does not constitute legal advice. Please consult with a legal professional for advice specific to your situation.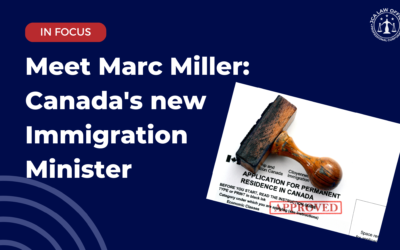 Canada's immigration landscape welcomes a fresh face as the country's new Immigration Minister, Marc Miller. With a background rooted in advocacy...
read more
Need A Consultation
Tell us about your legal matter, and we'll tell you how we can help.