Purchasing a residential home in Ontario can be an exciting, yet complex, journey. With various factors to consider, such as location, budget, financing, and legal implications, having a reliable guide is crucial. In this article, we will provide an overview of the residential home purchase process in Ontario and highlight the exceptional real estate closing services of JCA Law Office Professional Corporation.
Understanding the Home Buying Process in Ontario
Budget and Financing
Before beginning your search, determine your budget and secure financing. Assess your income, savings, and credit score to understand your borrowing power. Work with a mortgage broker or lender to obtain a pre-approval for a mortgage.
Finding the Right Property
Research neighborhoods and cities in Ontario to identify an area that meets your needs. Utilize online resources, attend open houses, and work with a real estate agent to find the perfect property.
Making an Offer
Once you've found a suitable property, make a written offer outlining the purchase price, deposit amount, conditions, and closing date. Your real estate agent will help negotiate with the seller.
Closing the Deal
After your offer is accepted, your real estate agent and lawyer will handle the paperwork and ensure all conditions are met. This includes securing financing, obtaining a home inspection, and completing a title search.
The Importance of Real Estate Closing Services
Real estate closing services are crucial to ensure a smooth and successful transaction. They involve the transfer of the property title, payment of the purchase price, and the completion of all legal documentation. A reliable real estate lawyer, such as JCA Law Office Professional Corporation, is essential for managing these tasks.
JCA Law Office Professional Corporation's Real Estate Closing Services
Exceptional Expertise
With extensive experience in real estate law, JCA Law Office Professional Corporation has the knowledge and expertise to handle all aspects of the closing process. They provide personalized guidance and are well-versed in Ontario's legal and regulatory requirements.
Comprehensive Services
JCA Law Office offers a full suite of real estate closing services, including:
Reviewing and negotiating the Agreement of Purchase and Sale
Performing a title search and addressing any issues
Preparing and registering the transfer of land
Preparing mortgage documents and coordinating with the lender
Calculating and adjusting property taxes and utility charges
Ensuring all conditions are met before closing
Overseeing the disbursement of funds on closing day
Efficient Communication
JCA Law Office ensures clear communication with all parties involved, including the buyer, seller, real estate agent, and mortgage lender. Their efficient and transparent approach keeps clients informed throughout the process.
Competitive Pricing
JCA Law Office offers competitive pricing for their real estate closing services without compromising on quality. They strive to provide exceptional value to their clients.
Conclusion
Purchasing a residential home in Ontario requires careful planning and guidance. JCA Law Office Professional Corporation's real estate closing services ensure a seamless and successful transaction, allowing you to enjoy your new home without any legal hassles. By selecting a trusted partner like JCA Law Office, you can confidently navigate the complexities of the home-buying process in Ontario.
Real Estate Closings Blogs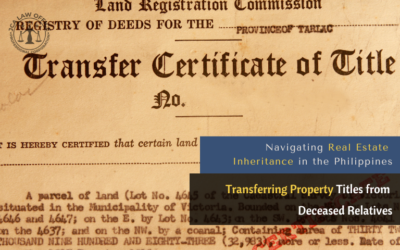 In the Philippines, a common occurrence is finding a property that remains titled under the name of a deceased relative, usually a parent or...
read more
Need A Consultation
Tell us about your legal matter, and we'll tell you how we can help.