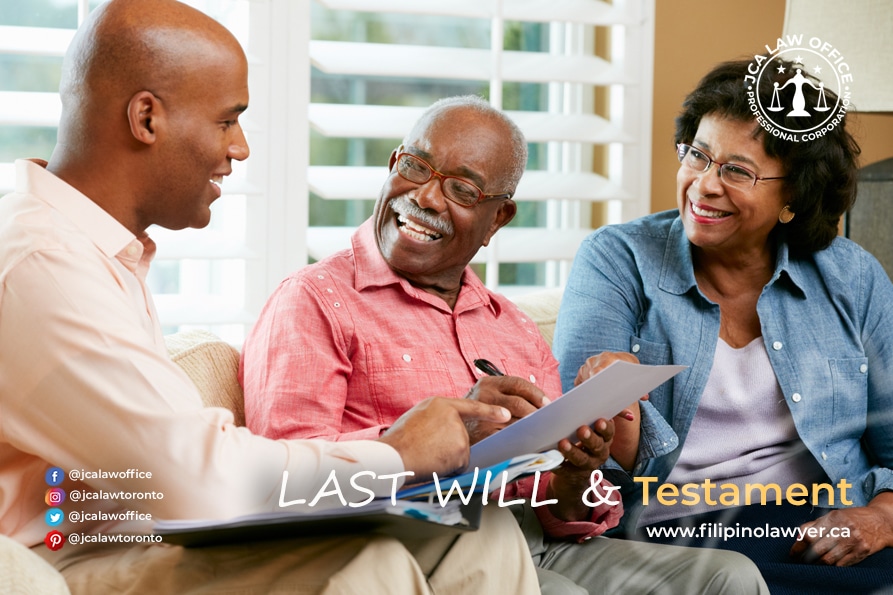 You may visit our office at 168B Eglinton Ave. East, Toronto, ON M4P 1A6 (street-level), just several steps away from the building where the Philippine Consulate Toronto is leasing.
You may also book your appointment by calling us at 1-855-522-5290 or book it online:
https://filipinolawyer.ca/book-an-appointment/
Follow us on our Social Media accounts:
Facebook:@JCALawOffice
Instagram:@jcalawtoronto
Twitter:@JCALawOffice
WILLS AND POWERS OF ATTORNEY PROMO
Our package includes free consultation with our lawyer and the full preparation of Will, Power of Attorney for Property and Power of Attorney for Personal Care with Health Directive
Individual Will Promo Package
$325.00 +HST
( Regular Fee: $475.00 +HST )
Couple Wills Promo Package
$535.00 +HST
( Regular Fee: $785.00 +HST )
( Each person will get full set above )
Simple Will Only
$375.00 +HST
Power of Attorney Only
$275.00 +HST
Health Directive Only
$175.00 +HST
MECHANICS FOR WILL & POA PROMO
Wills and Power Of Attorney
1. Wills Day is every 2nd Friday of the month starting March 13, 2020
2. A client may cancel seven (7) days prior Wills day without cancellation Fee
3. Booking Fee of $50.00 tax inclusive for each appointment slot (the couple who books for one spot will only pay $50.00)
4. Booking Fee of $50.00 tax inclusive will be forfeited for cancellation made three (3) days or less prior Wills Day. The client will be advised prior to the appointment regarding this.
5. Credit Card details will be pre-requisite for appointment booking.
Required Basic Information:
1. Name of executor/s – maximum of three (3)
2. Name of beneficiaries
Required Documents:
1. Client Form
2. Two IDs
So, when is the best time to make a last will?
In all honesty, there is no "right time" to create a last will. Thinking about your future death or illness and making all these tedious appointments and asset distribution is no fun. But not having one is worse. The people you care about the most will have to face more difficulties and challenges in the future if that happens.