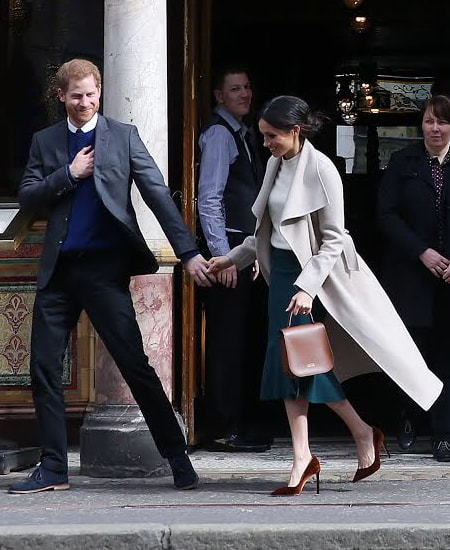 FINDING THE BEST PATHWAY TO COME TO CANADA FOR HARRY, MEGHAN, and baby ARCHIE
By Gin Aguilar
Finally, it's been decided – the Sussex family of Harry and Meghan is going to exit the royal family and will be stepping down completely from all their royal duties. After weeks of crisis the couple ignited by announcing last January 8th that they wanted to step back as part of "senior members" of the Royal family, become financially independent and spend more time in North America particularly Canada, it has been announced last Saturday, January 18th that the couple will no longer use their most exclusive titles, "HRH", or His Royal Highness and Her Royal Highness. They will also forgo public funding of their activities and will repay around USD $3 million for the renovation of Frogmore Cottage, their residence on the grounds of Windsor Castle. Said changes will take effect this coming spring and will be reviewed after a year.
The news comes after a series of dialogues and private talks with Prince Charles, Prince William, and the Queen, who on Saturday revealed that she was "pleased to have found a constructive and supportive way forward" for the Sussexes. The prince maintained that he's not abandoning his beloved country or the Queen, but asserted that "As far as this goes, there really was no other option." Apparently, there's no such thing as part-time royals.
Initially, the couple was hoping to be given permission for a hybrid role wherein they would be allowed to become financially independent but also continue representing the Queen and still perform their duties. But it appears they were presented with only two choices by the Buckingham Palace — in or out. Harry and Meghan opted out.
The couple will keep their titles Duke and Duchess of Sussex, which the Queen bestowed on them after they were married in 2018. Harry remains a prince and sixth in the line of succession, regardless of the changes that have been formally agreed upon.
CANADA AS THEIR SECOND HOME?
Although the couple has already been given permission by the Queen to move to Canada, what was not addressed from the royal announcement was about the young family's security – it did not give further details as to how the security arrangements will look like for the couple and their young son in Canada. Prime Minister Justin Trudeau said on January 13th, 2020 news on tv that, "There are still a lot of decisions to be taken by the royal family, by the Sussex's themselves, as to what level of engagement they choose to have and these are things that we are obviously supportive of their reflections, but have responsibilities in that as well." Trudeau added: "There are well established independent processes to determine the need for publicly-funded security, that is part of the reflection that needs to be had and there are discussions going on." Security experts are guessing that the Buckingham Palace will probably continue to provide the couple with some police protection, given their status as famous public figures.
WHAT ARE THE COUPLE'S IMMIGRATION OPTIONS?
Now that it has been confirmed that their choice of second home is Canada, the next question popping into our minds is that, what are the couple's immigration options? Currently, it is quite unclear as to how Harry and Meghan plan on immigrating to Canada. Like many young families deciding to settle in our maple-leaf country, the Sussex family will need to decide if they plan on temporarily residing only in Canada or if it is going to be more of a permanent haven for them. Do they plan on buying a home here, or just lease a house, or stay in an apartment first before shopping for real estate? How about Archie's education? These are just some of the major decisions that they need to sort out in order for them to move to the next level and figure out the best immigration path for their family. They may also try and attempt to use their royal status as a means of obtaining permanent residency, however, that would be politically risky and for sure there will be a lot of controversy around it, especially in a country that respects rules and values fairness in its immigration programs (they need to follow the process and fall in line!).
When it comes to immigration, taxation and even what they call themselves, Harry and Meghan along with their baby Archie will be no different from any other newcomers to Canada, and without permanent residency (PR) or Canadian citizenship, they can only spend a certain amount of time in True North — British and American citizens can only spend up to 6 months in the country as a visitor — so it remains to be seen how much time the young family will also spend outside the country.
Here's an initial assessment of their immigration options
Express Entry system
The most popular Canadian immigration option is via Express Entry. This path is meant for skilled workers using points system. Points are awarded based on the age, skills, education, work experience, language assessment and other qualifications an applicant holds. The applicant is placed in a pool with the other qualified applicants and ranked based on points. An Express Entry draw occurs on a periodic basis and the people selected via invitation can apply for permanent residency. This system favors skills and higher education and might not work for Harry since he does not have a University degree. However, Meghan is a graduate of Northwestern University and had the chance to work in Canada for some time when they were filming the TV series Suits in Toronto, so she may apply as the main applicant and just sponsor Harry and Archie later on.
RELATED TOPIC:
Start-up Visa Program
We know for a fact that Harry and Meghan have a lot of wealth and income under their belts even if they are stepping down as royals and forego public funding. Meghan has been reported with a net worth of $5MM for 2019, which comes from her earnings as an actress prior to becoming the Duchess of Sussex, while Harry is estimated to be worth between $25MM and $40MM, having inherited money from his mom Princess Diana (same as older brother William), and also earned some salary from his time as a British Army captain. This wealth may possibly open avenues in the business and investor visa arenas such as the Start-up Visa Program. Canada's Start-up Visa Program targets immigrant entrepreneurs with the skills and potential to build businesses in Canada that are innovative and can create jobs for Canadians. For sure, the Sussex family has a lot of innovative ideas since they have been actively involved in a lot of programs helping various communities while working with the royal family. Given the couple's goal of becoming financially independent, starting and running a successful business in Canada can be a great opportunity for them to meet this goal while becoming permanent residents. The processing time for this program is 12-16 months, which is quicker compared to the other immigration programs.
Work Permit
Meghan may also consider applying for a work permit if she wishes to return to showbusiness and work again in Canada since she already had the chance to work in Toronto while filming the TV series Suits. Work permits are granted to immigrants so that they can legally work in Canada and may eventually lead to permanent residency if the applicant meets all the requirements. Meghan can, later on, sponsor Harry and Archie once she gets her permanent residency status if ever she will consider applying for one.
RELATED TOPIC:
Provincial Nominee Program
Harry and Meghan may also consider the Provincial Nominee program if they want to have some privacy while at the same time enjoy the simplicity of provincial life and explore the beauty of nature that the different provinces of Canada have to offer. Each province and territory have its own immigration programs and requirements, they just need to figure out which specific province or territory they wanted to settle in. This program uses the Express Entry system but allows individual provinces to select candidates that will benefit their particular program. However, the same factors that could work against the pair in Express Entry would also play a role in provincial nominee programs since they need to provide eligibility requirements and need to prove that they have the right skills and meet the minimum criteria for Express Entry.
RELATED TOPIC:
https://filipinolawyer.ca/provincial-nominee-program-in-canada-how-does-this-work/
Self-Employed Persons Program
Interestingly enough, there is also this not-so-popular immigration program in Canada called the Self-Employed person program. This program allows people to immigrate to Canada permanently as a self-employed person. The applicant must have relevant experience in cultural activities or athletics and be willing to and able to make a significant contribution to the cultural or athletic life of Canada. Given that Harry is very athletic and has been involved in various sports programs, particularly being the founder of the Invictus games, then he can very well consider this path if he wants to apply as a permanent resident of Canada. Meghan can also apply for this immigration program since she has also been actively involved with a lot of cultural activities while working with the royal family. The processing time for this program is estimated to be 21 months which is a little longer compared to the Start-up visa program.
Temporary Option – Visitor Visa
Then again, if the Sussex family eventually decides that they do not want to take the permanent residency route, they may opt to stay on a temporary basis as well. But since British and American citizens can only visit Canada for up to six months, they must apply for visitor visas if they want to stay longer. This option though would mean that their young family would not have the legal ability to stay in Canada for an extended period which may become a little challenging once their son Archie reaches school age. They will also not be able to avail of the universal health insurance that our country provides to all permanent residents and citizens.
If you are like Harry and Meghan who is also interested to move to Canada, JCA LAW OFFICE has approachable and knowledgeable Filipino-Canadian Immigration lawyers and consultants who can gladly help and assist you with your immigration and legal matters. You may visit our main office at 168B Eglinton Ave. East, Toronto, ON M4P 1A6. We have another location right within the Philippine Consulate building at 160 Eglinton Ave. East, Suite 406, Toronto, ON M4P 3B5.
You may also book your appointment by sending us an email at info@filipinolawyer.ca or book it online: https://filipinolawyer.ca/book-an-appointment/
Follow us on our Social Media accounts:
Facebook:@JCALawOffice
Instagram:@jcalawtoronto
Twitter:@JCALawOffice